Eskimo Curlew
Eskimo Curlew Numenius borealis
---
On the 28th June I photographed a flock of Curlews Numenius
arquata
which flew up in front of me. At this time of the year
thousands of Curlews gather on the mudflats of Oostvoorne to
undergo a complete moult.
A tiny tawny-coloured Eskimo Curlew 
Numenius borealis 
flew
amidst the birds I photographed. The last known picture of a
live Eskimo Curlew was taken in April 1962 in Texas by Don Bleitz.
There are no pictures known of live birds taken in Europe of this
now extremely rare species , in fact the last reported occurrence
in Europe dates from September 1887 when a bird was shot on
the Isles of Scilly, England. 
'Damn few and they're not all deid.'
With headlines like "This James Bond Catches Birds Instead Of Villains." newspapers nationwide had a field day when ornithologist James Bond found a rare curlew in 1965–a species considered extinct for more than a decade.
Free library of Philadelphia, Rare Book Department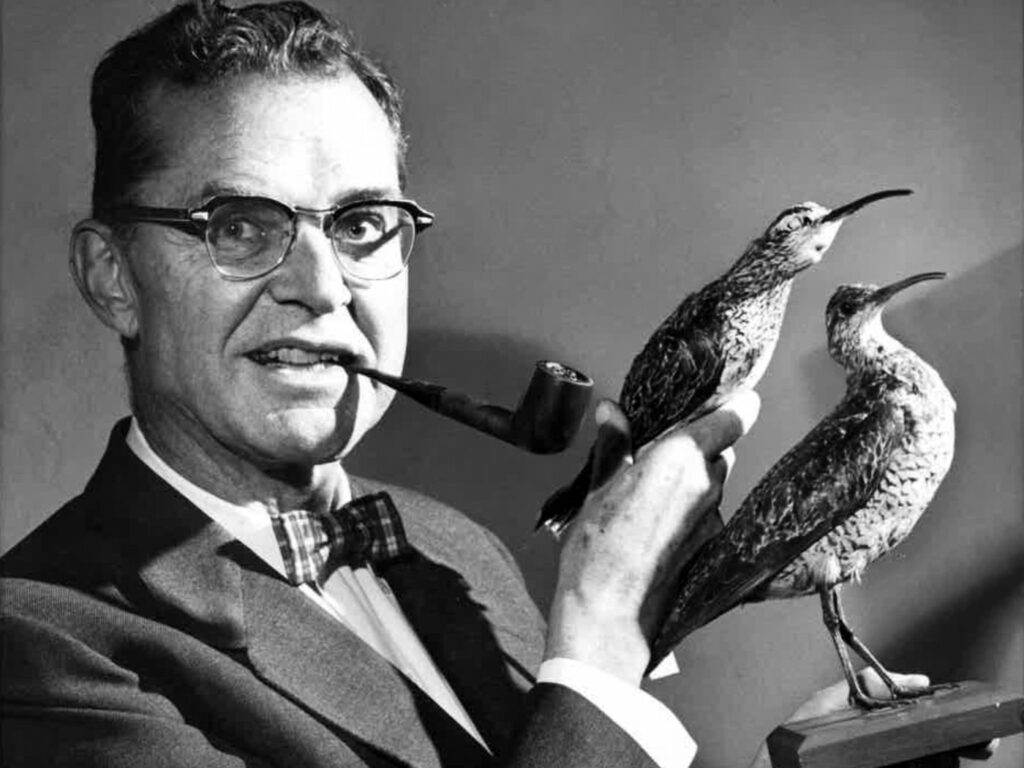 Eskimo Curlew, A vanishing species? by J.B.Gollop, T.W.Barry & E.H.Iversen. 1986. Special Publication No 17 of the Saskatchewan Natural History Society, Box 1121, Regina Saskatchewan S4P 3B4.
On page 86: About acquisition of the latest record for the island (i.e. Barbados) "At sunset. September 4, 1963 a lone Eskimo Curlew flying at the head of a flock of shore birds, was shot down by a hunter on the coast of Barbados.
 "On finding that the victim was not the familiar , the whimbrel. the hunters gave the large buff-gray bird with a long curving bill to Capt.Maurice B.Hutt who placed the bird in his deepfreeze." It was discovered some 17 months later by James Bond (M.W. Bond 1965 Did a Barbados hunter shoot the last Eskimo Curlew? Audubon 67: 314-316).